I did it!!!
well I did it, on Sunday I completed my very first half marathon. The run started in downtown San Antonio right in front of the Alamo at 7am sharp. As luck would have it, San Antonio had great weather the week prior to the run, but of course race day we experienced a "cold front" so the temp was about 43 degrees, (hey, that's cold for San Antonio!) LOL I really didn't know what to wear so I just wore a long sleeve running shirt as well as a short sleeved top. I also had on a sweatshirt, but after getting to the start line and warming up I decided against wearing the shirt shirt as well. Once as the start line I noticed the mass amout of people, there were so many people in different shapes and sizes. Seeing some of these other runners is so
motivating, I want to look like that hopefully one of these days! LOL
Anyway the gun went off and away we went. I did fine running, before I knew it I was at the 5K mark, I looked at my watch and realized I was at 24 minutes, I little too fast, but I hadn't done any math prior to the race to really track where I should be at certain points, so I kept on running. About an hour into the race, I ran into the bf on the sidelines and he had a hammer gel pack ready so I took that and even though I really didn't feel the immediate effects, it may have aided in my running. Not long after that I reached the 9 mile turn around and knew I only had 4 miles to go. My lungs at this point were fine, i was breathing easily, it was just my legs that were starting to fade, so a little after mile 10 I slowed to a walk for about 30 seconds, when I started up again, I felt the tension in my legs and told myself I wasn't going to walk again but into mile 12 I walked for another 30 seconds but saw the alamo dome and knew I was almost done, so I started to pick up the pace in my run. When I turned the corner and saw the finish line a 1:5 something on the clock I turned it into a full out sprint and eventually finished in 1:58:13 under my 2 hour hopes!!!
So now that I've completed the half marathon, it's only strengthed my love for running and made me realize there's so much more I want to complete!! So here goes to more running!!
Finished!!!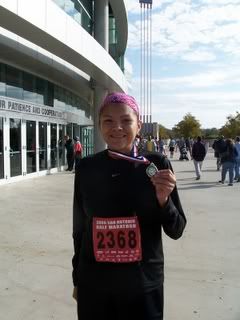 Stretching before the start of the race....